What Do Girls Wear to the Gym?
Hergymclothing
What Do Girls Wear to the Gym?
Before going to the gym to exercise, it is necessary to put on a suitable gym dress set. It is important to choose the right sportswear. Appropriate sportswear must be breathable and elastic, so whenever you choose sportswear, make sure that they are the right type, rather than choosing clothes that will only make you look beautiful. How to choose the right gym dress set? So ladies, what gym dress set should you wear before going to the gym?
1. What gym dress set do girls wear when they go to the gym?
(1) Choose a breathable sports crop vest. A breathable sports crop vest will absorb body heat and provide a moisture-wicking function to keep sweat away from your body and allow your skin to breathe. Wear a sports T-shirt or sports crop vest or sports bra for a more breathable workout routine.
(2) Support underwear. Choosing the right gym dress set is not the only important thing, and you also need to make sure to wear a women's sports crop vest with a built-in bra. Women should always wear a high-quality sports bra that can provide support and flexibility. Don't choose good-looking underwear. You should choose a women's sports crop vest with a built-in bra that can provide maximum support.
(3) Elastic material. You can choose a soft yoga set wear to go to the gym. Since you need to do a lot of leg exercises, you need to make sure that your hips are not too tight, and the part needs to be flexible. Although shorts provide maximum flexibility, they also make the body exposed, so if you are not confident enough, you can choose to wear a yoga set wear, which can be more optional.
(4) Sports shoes. You can switch between running shoes and another pair of sneakers that provide more protection at any time, depending on the type of exercise you are doing. But please make sure you wear comfortable clothes that can provide adequate protection for your legs and feet. In addition, wear breathable cotton socks that are neither too tight nor too loose. Because tight socks will restrict your legs, and loose socks will slip on your legs.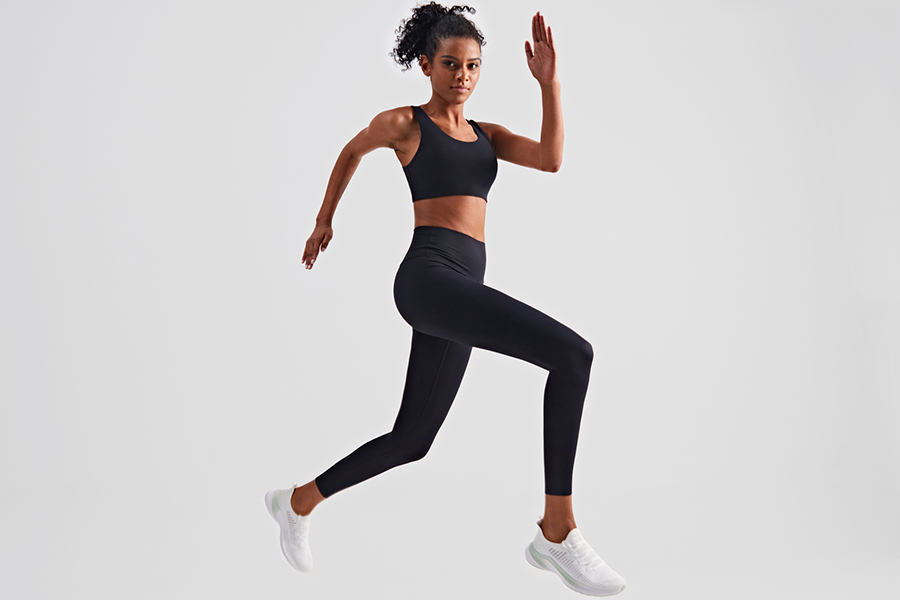 2. What else should I bring to the gym besides wearing a yoga set wear?
In addition to wearing a yoga set wear when going to the gym, you should also bring a towel with you. It is better to bring a clean towel to wipe off sweat. Use soft and clean towels for cleaning and do not share towels with other people. In addition, if you leave sweat on any training machine, please clean it up before other people use it. Otherwise, if you leave your sweat on the machine to dry, bacteria may infect other people.