What Material is Better for Sports Bra Vest?
Hergymclothing
What Material is Better for Sports Bra Vest?
1. What material is better for

a sports bra vest

?

Pure cotton sports bra vests are more popular because they won't cause skin allergies, natural materials can wick away perspiration, and they are also very breathable. This vest fabric is also widely used in the production of vests for boys and girls, and the recommendation index is very high. Modal, as a new type of fabric, can also be used in the production of sports bra vests. Its water absorption is also good, and the drape effect is also very good. It can also improve the defects of cotton vests that are easy to fold and deform, but in terms of naturalness, this vest fabric is not as good as cotton. Some people with skin allergies are not suitable for wearing.

The effect of sports bra vest made of Lycra fabric is also very good. Lycra can enhance the elasticity of the fabric. It can be used in combination with a variety of different fibers, whether natural or man-made, without changing the appearance and texture of the fabric. For example, lycra yoga pants are not only elastic but also has better performance in fit, shape retention, drape, and wearability after washing. Cotton and Lycra not only have the advantages of comfort and breathability of cotton fiber but also has the characteristics of good elasticity and not easy to deform that cotton fails to have, which makes the fabric more fit, soft and comfortable.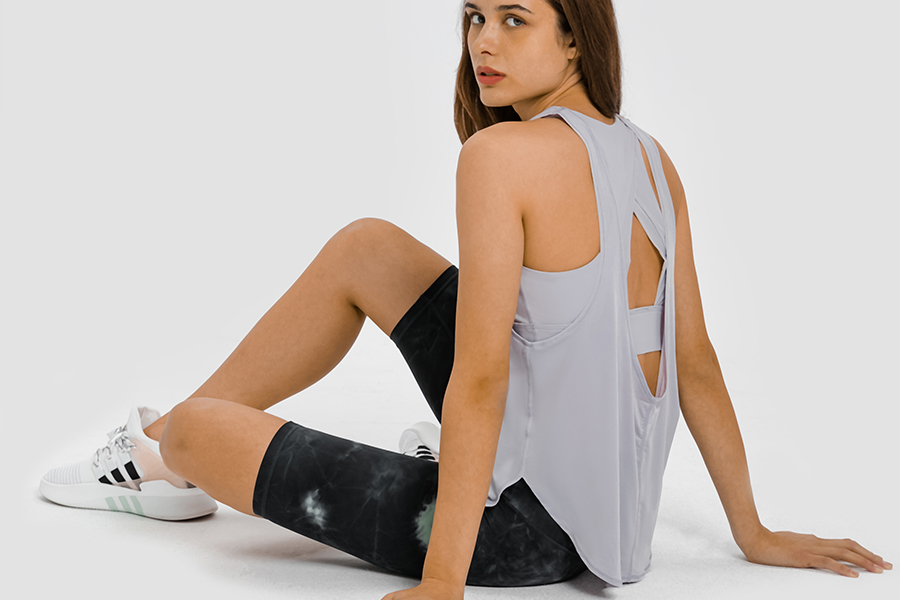 2. When should the

sports bra vest

be worn?

There are many types of sports clothing. In addition to the occasion, you can also choose what style you like. The modified sports bra vest style is suitable for matching evening dresses and skirts with open backs due to its more shoulder strap styles and decorations, and is suitable for shaping sexy styles. On a hot summer day, you can also wear a sports bra vest on a seaside holiday, and wear sun-protective outerwear on the beach, and at the same time reveal the playfulness of some little women. For those who don't like the backless style or have some small defects in the back shape, you can choose a functional sports bra vest, which can correct the back shape while showing their own attitude.
3. The matching of

sports bra vest

Regarding the choice of underwear, before buying underwear, a good-looking and sexy one is the first choice. As we grow older, we don't like underwear with thick pads and steel rings. Then comfort and texture are the most important thing. The vest is definitely the best partner in summer. Wearing a sports bra vest in summer is refreshing and energetic when paired with jumpsuits. The coolest thing in summer is to wear jumpsuits, which are comfortable. Don't worry about the shoulder straps, and don't worry about strangulation. Pair it with a cardigan or shirt. If you feel that wearing a vest is too revealing, adding a blouse is also a good match.