Spring/summer 2022 Women's Active Apparel Fabric Trends
Hergymclothing
Spring/summer 2022 Women's Active Apparel Fabric Trends
The fabric trends play a very important role in sportswear trend prediction -- the ultra-strong functionality of fabric is the core technology of sportswear, which is different from ready-to-wear trends. So there is a saying: there is no innovation in fabric, there is no real innovation in sportswear.
1. Trends in women's active apparel
i. Women's active apparel should have strong environmental adaptability and reproducibility, fashion pays attention to constant change, but the durability of sportswear is increasingly important, so the designers are exploring biodegradable materials which are based on adaptability nowadays.
ii. The proportion of biological manufacturing is gradually increasing. The culturable bioactive materials such as algae, moss and mycelium have been tried to be used in sports equipment. Lycra yoga leggings are becoming a trend. And biodegradable fabrics have the properties of green degradation, regeneration and no residue, so they will have great development potential.
iii. Women's active apparel embraces the new futuristic style. At the start of the new decade in 2022, the futuristic styling will return to the forefront so that it will drive the popularity of functional material treatments such as light mesh construction, laser cutting and seamless design. No front seam leggings are getting more and more attention.
iv. Women's active apparel should blur the boundaries of sport. As mentioned above, women's sportswear is not exclusive to gyms. The designers should focus on mixing shapes and multi-functional materials in order to lead the consumers to move to multi-field sports and exercise.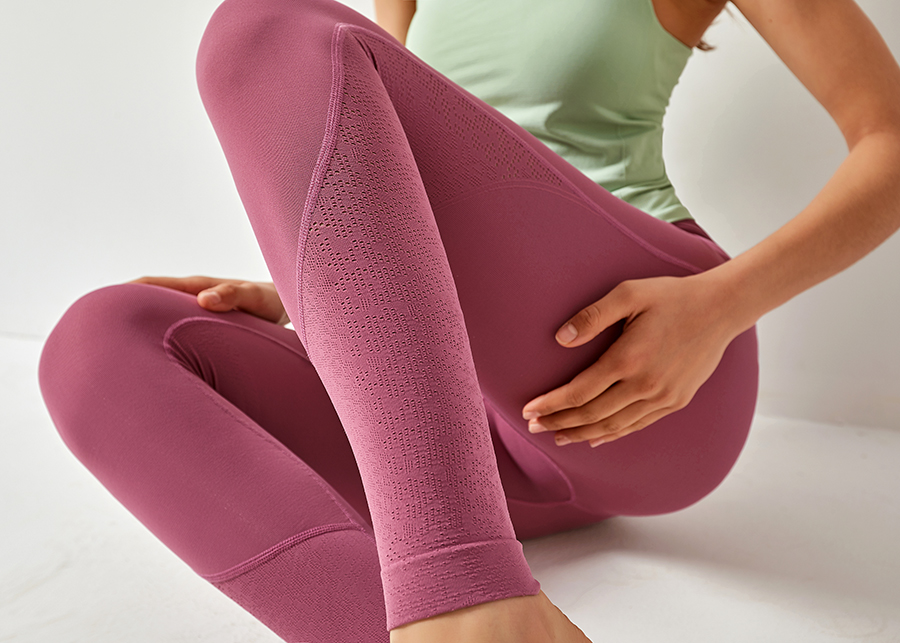 2. Characteristics of women's active apparel
i. As people pay more and more attention to product durability, the materials such as graphene will be used in commercial outdoor clothing. The ceramic coatings and self-healing fabrics make garments almost indestructible, and the elastic woven fabric with multidirectional tensile properties is promoted to a new height to bring unlimited exercise experience.
ii. Light tulle has always been a key fabric for women's active apparel and will be more widely used in coats and blouses in spring/summer 2022. The delicate and transparent sweet gauze fabric is suitable for stitching, if you want to look more modern, you can do pleats and use the details to show the femininity.
iii. The fashion sustainability of women's active apparel is focused on the proportion of natural ingredients in fabric and degradation treatment. The fabrics are increasingly presented in raw and natural undyed forms. The genderless, seasonless biodegradable fabrics bring a new dimension to the cotton plain knitting and fleece fabrics.